An up-all-night version of "Ferris Bueller's Day Off" for the newly adolescent set, "Sleepover" takes its John Hughes inspiration (the epitome of all great teen comedies, "Sixteen Candles," also springs to mind) and puts it to inspired, if decidedly unoriginal, use. The 90-minute running time flies right by in a stream of bubbly pacing, fun music selections, and likable characters you want to root for. The film's moralistic themes and plot trajectory are of a been-there-done-that variety, but its innate predictability almost comes as an attribute. By being able to guess where things are headed, the viewer can concentrate more on just how well the formula is accomplished.
It's the final day of 14-year-old Julie Corky's (Alexa Vega) middle school career, but that isn't the only thing coming to an end. With best friend Hannah (Mika Boorem) set to move away with her family in only a couple days, Julie is facing four long, lonely years as an unpopular high schooler. The two of them throw a sleepover bash, attended also by Yancy (Kallie Flynn Childress) and Farrah (Scout Taylor-Compton), and get ready for a night of music, dress-up, and pizza. Their plans suddenly change, however, when the popular, snooty Stacie (Sara Paxton) and her clique of friends offer them a scavenger hunt challenge. The first team to accomplish all of the tasks and make it to the high school dance will win the privilege of getting to sit at the exclusive outside fountain for lunch their freshman year.
Snappily directed by Joe Nussbaum (his feature film debut) with an eye for how the classic John Hughes movies of the '80s were crafted, "Sleepover" doesn't come close to matching those earlier films' relevance but is entertaining just the same. For a PG-rated motion picture targeting roughly 10-to-15-year-olds, however, there are some risque plot points that do prove questionable, including the idea of teenage guys old enough to drive dating middle school girls. There is also the subject of an electric-powered car the underage Julie and her friends steal from Yancy's father and a run-in with a security officer that, in actuality, would get them into some serious trouble. And, while on the subject, a sequence in which the foursome go to a club and Julie tries to order an alcoholic Sex on the Beach while on an Internet hookup with a teacher. It's all more innocent than it sounds, of course, and the conversation Julie has with Mr. Chilton (Timothy Dowling) after he discovers her identity is nicely written and rather sweet.
Following her work in the "
Spy
Kids
"
trilogy
(she played Carmen), Alexa Vega comes into her own here as Julie—her first solely leading lady role—and is utterly winning and unaffected in the same way Molly Ringwald was twenty years ago. She handles the comedic moments with assuredness (the storefront mannequin charade, scored to Jump 5's catchy "Freeze Frame," is a highlight) and is even more effective in the dramatic scenes where she faces forever parting with Hannah and finally gets her dream guy, Steve (Sean Faris).
As best friend Hannah, Mika Boorem (2001's "
Hearts in Atlantis
") solidly fulfills her role without having as much to do, and newcomer Kallie Flynn Childress is also notable (and, for once, not a caricature) as the overweight Yancy. Also on hand is Sam Huntington (2001's "
Not Another Teen Movie
"), as Julie's understanding college-aged brother Ren, while Jane Lynch (2003's "
A Mighty Wind
") and Jeff Garlin (2003's "
Daddy Day Care
") are appropriately frazzled, yet realistic, as parents Gabby and Jay.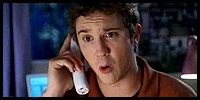 "Sleepover" makes a few blunders on its obvious path to Julie's romantic first kiss with Steve (that these 14-year-olds would be dancing to the Spice Girls in 2004 is mindboggling), but the film is filled with so much good will that such problems can be overlooked. There is a refreshing minimum of dumbed-down, scatological humor—only one fart joke in sight, which is a step up from the five or so used in the recent "
White Chicks
"— and in the realms of teen fantasy setups, the material is treated with a rare maturity. "Sleepover" may not be the next "Sixteen Candles" (what really could be?), but it is a quality, albeit frothy, teen flick destined to charm its target audience, and maybe even some grown-ups, as well.