Due to 1997's "Waiting for Guffman" and 2000's "Best in Show," Christopher Guest has been unofficially reigned the master of the mockumentary genre, obtaining a surprisingly large cult following for his on-target, often laugh-out-loud funny satires. His best picture (and one of the strongest comedies of the '90s), "Waiting for Guffman," was a faux-documentary about small-town theatre, while "Best in Show" centered on the world of dog show competitions. If Guest's latest cinematic foray, "A Mighty Wind," does not reach the inspired heights of its predecessors, it is still a fitfully amusing and safe entertainment—"safe" because he always uses virtually the same cast of actors, and audiences who are familiar with his work already know walking in what they will be treated to for the next 90 minutes.
Guest's target this time around are the faded folk music singers of the '60s and '70s. When famed music producer Irving Steinbloom dies, three folk groups of the past are rekindled to perform at a tribute concert, to be held at New York's Town Hall and broadcast nationally on Public Broadcasting. The Folksmen are a male trio (Christopher Guest, Michael McKean, Harry Shearer) who had a sole hit years ago, but still play together from time to time; Mitch (Eugene Levy) and Mallory (Catherine O'Hara) were once America's sweetheart duet group, but have been estranged for many years; and The New Main Street Singers are a youthful spin-off of a '60s group who would be as pure as apple pie were it not for one member's (Jane Lynch) former past in porn films.
Like 1984's classic heavy-metal mockumentary "This is Spinal Tap" (which Guest starred in and co-wrote), "A Mighty Wind" puts a savvy spin on a music genre, just outlandish enough to garner unexpected laughs but never forgetting that it is supposed to be based in reality. While Guest often pokes fun at his offbeat characters, he does it affectionately and without malicious intent. He mostly avoids mean-spiritedness and raunchy humor, which litter most of today's comedies, and, instead, finds his comedy in the sly dialogue and performances.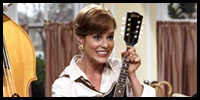 Where "A Mighty Wind" falters a little more than usual, then, is that here he seems to care about his characters so much that he occasionally threatens to turn the proceedings into a poignant fake documentary, rather than one that lampoons its subject matter. Because of this, and because his targeting isn't as focused as usual, the laughs are not as big or memorable and do not come as often. There are times in the movie, as enjoyable as it still is to watch, where Guest seems to be holding back, on the verge of an uproarious punchline that never comes.
All of the returning members of Christopher Guest's loyal acting troupe have returned, with the most juicy roles going to Eugene Levy (2003's "
Bringing Down the House
") and Catherine O'Hara (2002's "
Orange County
") as failed partners Mitch and Mallory. They are the heart and soul that run through the film, even when they are not onscreen, and there is genuine suspense aroused in the concert finale as the question of whether Mitch and Mallory will kiss or not during their love ballad looms overhead. In a standout, too-small role, Jennifer Coolidge (2001's "
Legally Blonde
") is hilarious as the ditzy Amber Cole, whose PR company is hired by Steinbloom's son, Jonathan (Bob Balaban), to publicize the event. As New Main Street Singer Sissy Knox, Parker Posey (2002's "
Personal Velocity
") is not given as much to do this time around, but sparkles whenever she pops up.
"A Mighty Wind," named after the encore song the three folk groups sing together at the concert, doesn't come close to achieving the laughs and originality of "Waiting of Guffman," but it is still more witty and satisfying than the majority of comedies that are released in today's times. The folk music, written and performed by the actors in much the same the country tunes were created for Robert Altman's brilliant 1975 tapestry, "
Nashville
," are also quite catchy. If Christopher Guest didn't exactly hit the ball out of the park with "A Mighty Wind," however, he has still made a film good enough to make any of his supporters anxiously await his next effort.