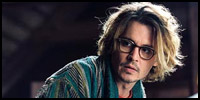 Based on the novella, "Secret Window, Secret Garden," "Secret Window" is a taut, spine-tingling thriller, the most assured and classy adaptation of Stephen King's horror-themed work since 1990's "Misery." Translating King to the screen is an often difficult undertaking, because what works tremendously on the page tends to come off cheesy or overdone on celluloid. For recent examples, take a look at 2003's jarringly uneven "
Dreamcatcher
" and 1997's horrible "The Shining" miniseries. "Secret Window" mostly avoids these trappings (save for a key climactic scene), in no small part thanks to the intelligent, stylish crafting of writer-director David Koepp (1999's "
Stir of Echoes
") and yet another marvelously nuanced turn from Johnny Depp (2003's "
Pirates of the Caribbean: The Curse of the Black Pearl
").
Suffering through the final stages of a painful divorce, novelist Mort Rainey (Johnny Depp) whiles away his days at his woodsy cabin home with severe cases of writer's block and lethargy. Looking disheveled and frustrated by his lack of creative inspiration, Mort is stuck in a rut he does not know how to climb out of. And then, one day, he is paid a house call by the ominous, brim-hatted John Shooter (John Turturro), and his bout with depression quickly turns to confusion and terror. John claims Mort has plagiarized a short story he wrote entitled "Secret Window," and insists that he rewrite the ending to fit his own vision. As Mort attempts to find the original magazine it was published in to prove he wrote it first, John's seldom visits soon turn to violent harassment.
Not everything is as it seems in "Secret Window," a film that hinges on a major plot twist in the third act that clarifies what has really been going on all along. This development, while keenly pulled off, should not come as much of a surprise to those viewers knowledgeable of the thriller genre. For me, I was able to correctly predict where the picture was going in the first act, and it became exceedingly obvious by the midway point. Despite not truly unpredictable in the way 1999's "
The Sixth Sense
" or 2001's "
The Others
" were, "Secret Window" still works quite well, ratcheting up a heightened level of suspense over long periods and capturing one's attention from beginning to end.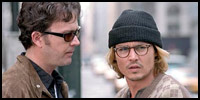 With a minimum of characters and settings (much of the running time is devoted to Mort alone at his cabin), "Secret Window" is an engrossingly small-scale motion picture with class act production values. Writer-director David Koepp smartly zeroes in his focus on Mort and avoids bogging the proceedings down with unnecessary subplots. The film is tightly paced and edited, with crisp, innovative cinematography by Fred Murphy (2002's "
The Mothman Prophecies
")—the elaborate opening tracking shot is astounding—and a memorably edgy music score by Philip Glass. Even the usually constricting PG-13 rating works in its favor, showing the audience just enough of the violence for them to be impacted by the full extent of what it suggests.
Following his Oscar nomination for "
Pirates of the Caribbean
" and a newfound mainstream appreciation, Johnny Depp is on a roll. He is undoubtedly one of modern film's greatest talents, a performer who avoids the obvious at all costs and is constantly surprising in the ways he brings truth and humanity to his characters. His sharp, sympathetic performance as Mort Rainey is no exception, playing a man at a struggle with his personal demons and unsure of where to go after his marriage falls apart. As the confounding John Shooter, John Turturro (2002's "
Mr. Deeds
") makes this southern-born villain his own with a tangible level of real threat and quirkiness. And as Mort's estranged wife, Amy, Maria Bello (2003's "
The Cooler
") is also quite good, bringing three dimensions to a somewhat underwritten role. All other supporting work, including Timothy Hutton (1999's "
The General's Daughter
"), as Amy's new beau, and Charles S. Dutton (2004's "
Against the Ropes
"), as Mort's bodyguard, is superlative.
"Secret Window" is a Stephen King adaptation the way they should be done, elegantly mounted with top-flight talent across the board and steering clear of narrative excess. And save for a single climactic sequence that could have been carried out with more subtlety, in which the truth is made clear to Mort, the movie takes few wrong steps. "Secret Window" may not be as surprising from a plot standpoint as director David Koepp intended, but it does not detract from the bigger picture. As far as creepy, suspense-laden thrillers go, this one is right on target.