In the tradition of the star wattage found in the 1960 original (including Rat Packers Frank Sinatra, Sammy Davis Jr., and Dean Martin), the loose 2001 remake of "Ocean's Eleven" comes equipped with the likes of George Clooney, Brad Pitt, Matt Damon, and Julia Roberts. Seeing so many major Hollywood actors in one movie—often times in the same frame—is enough to give anyone whiplash, and it is their work alone that gives this otherwise slight crime caper its flare.
The second petty thief Daniel Ocean (George Clooney) gets out of prison, he breaks his probation by taking off for Hollywood, reconnecting with old buddy Rusty Ryan (Brad Pitt), and letting him in on his latest scheme to rob three Las Vegas casinos simultaneously. Danny and Rusty enlist nine other little-known masterminds to aid in their planned heist, including pick-pocket Linus Caldwell (Matt Damon); newly retired con man Saul Bloom (Carl Reiner); British explosives expert Bashir Tarr (Don Cheadle); feuding brothers Turk and Virgil Malloy (Scott Caan, Casey Affleck), and acrobat/contortionist Yen (Shaobo Qin).
Set to rob the safe of conjoining casinos The Mirage, The Bellagio, and The MGM Grand on boxing night (worth a net value of at least $150-million), Rusty soon discovers why Danny has picked these particular places. It seems that the trio are owned by the oily Terry Benedict (Andy Garcia), the new boyfriend of Danny's ex-wife, Tess (Julia Roberts), and it's the only way he knows how to expose Terry's heartless side and win back his true love.
If the style of a movie was consistently as important as its script, then "Ocean's Eleven" would be a rousing, all-star success. As is, the film is thinly plotted and the characters are generally underwritten by screenwriter Ted Griffin (1999's "
Ravenous
"), but director Steven Soderbergh (2000's "
Traffic
") undoubtedly knows how to shoot his movies, as well as give them a significant visual spark. Each shot seems to have been meticulously planned out and colorful, and the actors look more like they're on vacation than making a motion picture. The fun they are so clearly having is contagious, as the film, at least partially, becomes all the more entertaining because of it.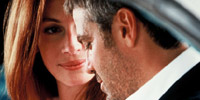 The performers are particularly fun to watch at work. George Clooney (2000's "
The Perfect Storm
") exhibits the suave, ultra-coolness that he is known for, while Brad Pitt (2001's "
Spy Game
") is a standout as Rusty Ryan, a witty stud who always has something in his mouth. Matt Damon (1999's "
The Talented Mr. Ripley
"), as novice Linus Caldwell, also gets some fun moments, as does veteran actor-director Carl Reiner (1998's "Slums of Beverly Hills") and Elliott Gould (1998's "American History X").
In a rare supporting role, Julia Roberts (2001's "
America's Sweethearts
"), as the embittered Tess Ocean, has far too little to do, despite getting a few choice scenes to play out near the end. The funniest moment in the whole movie arrives during the end credits when she is billed as "And Introducing Julia Roberts," as if this were her film debut. Delightful cameos by a who's-who of young television stars—Joshua Jackson (2000's "
The Skulls
"), Shane West (2000's "
Whatever It Takes
"), Holly Marie Combs (TV's "Charmed"), Barry Watson (1999's "
Teaching Mrs. Tingle
"), and Topher Grace (2000's "
Traffic
")—round out the cast.
The actors may be the bright spot, but the characters they play do not share any sort of satisfying camaraderie with each other, and some are so underdeveloped (such as Shaobo Qin, Casey Affleck, Scott Caan, and Eddie Jemison) that they only get a couple lines of dialogue each. Luckily, the elaborate robbery goes into full play in the last 45 minutes, adding twists, suspense, and a much-needed freshness to the proceedings. When all is said and done, "Ocean's Eleven" proves to be a hip, joyfully contemporary retelling of its vintage predecessor, but someone of director Steven Soderbergh's caliber deserves slightly better than this material has to offer.
©2001 by Dustin Putman