From the start, director Nick Cassavetes (2002's "
John Q
") makes no bones about what kind of motion picture "The Notebook" is, and what audience it has been made for. A tearjerker about the undying power of true love, the film injects practically every cliche of the genre in hopes that some of the devices—the unlikely rich girl/poor guy romance, disapproving parents, unreceived love letters, a disease—will stick. They do, despite a creaky plot that is about as predictable as they come, and many softies in the audience may very well find themselves with a Kleenex in hand as the end credits start to roll. "The Notebook" might be hopelessly maudlin fluff, but Cassavetes' assured filmmaking and some lovely performances help to raise it above mediocrity.
At a tranquil nursing home, an elderly man (James Garner) spends his waking hours reading a love story written in a notebook to a woman (Gena Rowland) of the same age. She is intrigued by the story, eagerly anticipating how it ends, but alas, she is suffering from Alzheimer's Disease and doesn't realize that it is about her own life. Cue the extended 1940's flashbacks, as lowly "country" boy Noah (Ryan Gosling) woos beautiful "city" girl Allie (Rachel McAdams). At first unreceptive to his advances, Allie soon falls in love with the earnest Noah. Unfortunately, following a wondrous summer together, they are split apart by Allie's disapproving mother (Joan Allen), who believes her daughter can do better. With Allie a thousand miles away at Sarah Lawrence College and Noah shipped off to fight in World War II, the two seem destined to make their way through life with nothing more than a fond memory of the other. When a chance reunion occurs seven years later, Allie and Noah cannot deny their continued feelings for one another. Will Allie settle for financial security with respectful fiance Lon Hammond (James Marsden), or follow her heart and choose what will make her happiest?
Based on the novel by Nicholas Sparks, whose "
Message in a Bottle
" was made into a drippy 1999 adaptation starring Kevin Costner and Robin Wright Penn, and whose "
A Walk to Remember
" was turned into a likable 2002 adaptation starring Shane West and Mandy Moore, "The Notebook" falls safely into the latter category. As far as big-screen weepers go, the movie fails to match the lofty heights of 1983's "Terms of Endearment" and 1988's "Beaches," but it is comfortable, well-made, and kind of charming in its old-fashioned ways. There are no action scenes, no apparent visual effects, and no marketable pop tunes. What is left, then, is a pleasantly simple and warm-hearted story about two people who are total opposites, but perfect for each other.
Much of the credit for making this plot work deservedly goes to Ryan Gosling (2004's "
The United States of Leland
") and Rachel McAdams (2004's "
Mean Girls
"), a perfectly engaging pair as the young Noah and Allie who share ample chemistry, both with the camera and with each other. For Gosling, who has memorably played a lot of mentally unhinged characters in the past, and for McAdams, who has been stuck in stereotypical teen parts, this is an ideal entrance into starring roles. Both are up to the challenge of portraying romantic leads the viewer wants to see get together, and it helps all the more that they exhibit quite hefty acting chops that should propel them further in their careers.
James Garner (2002's "
Divine Secrets of the Ya-Ya Sisterhood
") and Gena Rowlands (2004's "
Taking Lives
") are sufficiently poignant as their older counterparts. Their personal story, which is more or less a wraparound for the flashbacks, doesn't afford them as much screen time, but Garner and Rowlands are up to the challenge in displaying the deep love they share for one another, even as Allie is in the later stages of Alzheimer's and must struggle to remember her past. The film's sappy final scene could have become unbearably laughable in lesser hands, but director Cassavetes and his actors use a subtle approach in making it work.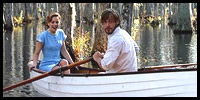 In supporting roles, Joan Allen (1998's "
Pleasantville
") shades Allie's stern mother with some unexpected dimensions in a quietly effective late scene, while James Marsden (2003's "
X2
") has the thankless, unenviable task of playing the expendable third wheel in the Allie-Noah-Lon love triangle. At the very least, at least Lon is written as a nice enough guy so that Allie's ultimate choice doesn't seem so easy.
With lush cinematography by Robert Fraisse (1998's "Ronin"), taking advantage of its southern setting's serene lakes and beautiful, color-strewn sunsets, "The Notebook" resembles a romance novel come to cinematic life (which is what it is). The film doesn't transcend its well-worn genre, but it is far from the worst of its type and has an unhurried, compassionate allure. At its center are the invaluable Ryan Gosling and Rachel McAdams, who invite viewers to bask in their star-crossed romance and get them to care about the easily foreseen outcome. Real-life love stories rarely work out quite so faultlessly, but for two hours it's nice to believe that they could.