The gross-out high school/college comedy genre has become so evident in recent years that, seriously, could anything outside of actual pornography in a mainstream movie be shocking anymore? Since the raunchy sexual jokes have become old hat, the key to the success of a film like this is all in the writing and characters, and whether they're actually endearing and funny. "National Lampoon's Van Wilder," a bid for the title of the next "Animal House" of the new millennium, is certainly not one of the worst entries in the ongoing saga of lewd comedies, but it also lacks the originality and amount of laughs required to distinguish itself from the lot.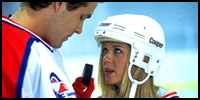 Set at Coolidge College, Van Wilder (Ryan Reynolds) is a happy-go-lucky party animal who holds the title of being in the university's undergraduate program for the longest amount of time: seven years. When Van's stern, high-powered father (Tim Matheson) discovers he has been basically squandering his money, determined to remain in college for as long as possible, he refuses to pay for any more of his schooling.
Meanwhile, aspiring school newspaper journalist Gwen Pearson (Tara Reid) is called upon by her editor (Tom Everett Scott) to interview Van and do an expose on him about why he is afraid to graduate and move out into the real world. While trying to get her story, Gwen comes to find that Van is a truly sensitive, sweet guy, and begins to doubt her relationship to her overly serious pre-med boyfriend, Richard (Daniel Cosgrove).
Perhaps one of the biggest pitfalls of "National Lampoon's Van Wilder" is that it is coming out only two weeks after the very similar, much funnier "
Sorority Boys
," which it sorely pales next to. While Van Wilder makes for a likable enough lead character, and is played with mucho charisma by Ryan Reynolds (1999's "
Dick
"), the story he is stuck in remains unfocused and pedestrian. The movie lacks comic momentum, and even though some of the big comic centerpieces are good for a cursory laugh, such as a yucky semen-laced eclair bit and another involving laxatives, far more often they just feel tiresome. Too many scenes also fall into the trap of trying to shock and disgust for the sake of being gross, rather than to serve the story at all. The "
American Pie
" movies, in comparison, had their bawdy moments, but the majority of time they were placed within for a reason.
Speaking of which, "
American Pie
" alum Tara Reid turns up as Gwen, Van's potential love interest. She does okay with what she's given, but this is not one of her standout performances. Too often she just looks bored in her role. Likewise, the romance between the two isn't developed enough to be notably effective.
"National Lampoon's Van Wilder" isn't boring, and it doesn't reach the lowest-common-denominator in the annals of college flicks (the abysmal "
Slackers
" made sure of that earlier this year). At the same time, director Walt Becker and screenwriters Brent Goldberg and David Wagner coast right along, happy to line up a set of wacky, albeit banal, sight gags without bringing anything particularly creative to the table. "National Lampoon's Van Wilder" may aim to be the next "Animal House," but it more closely resembles this year's version of "
Tomcats
."
©2002 by Dustin Putman