2000's "
Meet the Parents
" was not only very savvy in producing big laughs, but also had a genial core that grounded the zaniness in truth. In its story of eager-to-please nurse Greg Focker (Ben Stiller) and his hapless Thanksgiving vacation to meet and hopefully win over fiancée Pam Byrnes' (Teri Polo) protective parents, Jack (Robert De Niro) and Dina (Blythe Danner), there was a fresh setup that viewers could relate to and sympathize with. The inevitable follow-up, "Meet the Fockers," cannot sustain its predecessor's success with any sort of momentum. Directed again by Jay Roach (2002's "
Austin Powers in Goldmember
"), this is a frantic, pointless sequel, funny in clumps, but mostly contrived and empty.
It has been two years since Greg proposed to Pam and won the blessing of her parents—former CIA man Jack and understanding Dina—but no marriage has yet occurred. Greg, it turns out, has been putting off the wedding until he can get up the courage to allow Pam's parents to meet his quirky, off-color own. As "Meet the Fockers" begins, that time has come. Driving down to sunny, warm Miami in Jack's spacious new motor home—and with adult-like toddler grandson Little Jack (Spencer and Bradley Pickren) in tow—they are quickly welcomed into the home of Greg's new-agey parents, retired lawyer Bernie (Dustin Hoffman) and sex therapist Roz (Barbra Streisand). As the two sets of parents somewhat clash in their wildly different behaviors, Greg receives news from Pam that might just drive her father over the deep end if they don't drastically push up the wedding: she is pregnant.
"Meet the Fockers" befalls the curse of most sequels—it is more of the same, only not nearly as organic and fresh. Screenwriters John Hamburg (2004's "
Along Came Polly
") and Jim Herzfeld (2000's "
Meet the Parents
") tend to go for broad, borderline-stereotypical characterizations over three-dimensional traits, and too often fall into the pattern of predictable, sexually-laced slapstick that might be more at home in a "Saturday Night Live" skit. They also waste valuable time on a worthless subplot in which Jack suspects Greg is the father of a 15-year-old Hispanic boy named Jorge (Ray Santiago) whom he shares an uncanny resemblance to—and whose mother is the Focker's sexy maid, Isabel (Alanna Ubach). And, in an act of desperation, Hamburg and Herzfeld take the initially funny joke of the Fockers' very name resembling that of a four-letter word, and recycle it in every single scene to the point of nausea.
To be sure, there are a few amusing situations sprinkled throughout the film that lift the experience above intolerable. The opening sequence is probably its most original and sly, as the disaster-prone Greg and Pam make their way from their apartment to a cab to an airport to a car rental company, and, to their disbelief, good luck follows them in every direction. Director Jay Roach has fun early on in skewing expectations like this, but soon falls back on a less heart-filled retread of the original. Greg's mishap-filled babysitting job with Little Jack holds an uproarious payoff, and it is funny, for example, to see Barbra Streisand (1996's "The Mirror Has Two Faces") going against type as she teaches a group of senior citizens a number of sexual positions posing as exercise. More frequently than not, though, the humor is of the lazy variety. The whole horny-dog-humping-a-leg joke was old-hat five years ago, but it is discouragingly repeated twice here to groan-inducing effect.
As the movie moves into its second hour and it becomes clear director Roach doesn't have anything new or beneficial to offer, the fleeting entertainment value escapes the proceedings altogether. By the time the sappy, perfect-with-a-bow ending arrives, the film has become downright painful. As for the central romance between Greg and Pam that is the catalyst for bringing the parents together, it is almost entirely absent. In the first picture, they believably and sweetly felt like a couple. Here, they are simply going through the paces.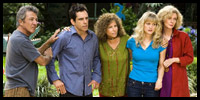 Ben Stiller (2004's "
Dodgeball: A True Underdog Story
") is a red-hot comedic actor. Playing Greg, he knows how to endear the viewer to his character's quandary while delivering ace punchlines, and so the lacking material he has to work with isn't his fault. The same goes for Robert De Niro (2002's "
Analyze That
"), clearly having fun as the distrusting Jack, who is having trouble leaving his investigative CIA frame-of-mind in his past. The female components, however, are wasted, with Blythe Danner and an unattractive-looking Teri Polo (2001's "
Domestic Disturbance
") stepping aside to let the guys—and Streisand—get all the glory.
In fairness, "Meet the Fockers" could have been worse, which is the highest of compliments it is deserving of. The gags waver between diverting, ill-advised, and moldy, while the story itself is so lame even the lively performers grow tiresome in their roles by the third act. There is a disturbing, but unsurprising, suspicion running through "Meet the Fockers" that it was made for one reason and one reason only: money. It is too bad that very same thing couldn't have bought a better script.