The burgeoning filmmaking path the Coen brothers—writer Ethan and co-writer/director Joel—have strived for since 1996's "Fargo," one of the best films of that decade, has eluded them. While 1998's "The Big Lebowski" was mildly amusing and 2000's "O Brother, Where Art Thou?" was more popular for its wildly successful bluegrass soundtrack than the film itself, most of the Coen brothers' recent big-screen endeavors have been major disappointments. Perhaps motion pictures as original and all-around brilliant as "Fargo" only come around once for most filmmakers. Whatever the case may be, "Intolerable Cruelty" is a shallow and instantly forgettable non-romantic comedy, a new cinematic low point for Joel and Ethan Coen.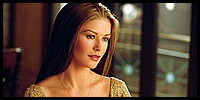 Miles Massey (George Clooney) is the best divorce lawyer in town, a wealthy hotshot who wins cases through swindles and lies. Marilyn Rexroth (Catherine Zeta-Jones) is a venemous gold-digger who marries rich men with wandering eyes, arranges to catch them in the act, and then walks away with half their assets in divorce court. When Miles is hired to defend her latest victim, soon-to-be-ex-husband Rex Rexroth (Edward Herrmann), it puts him in direct contact with Marilyn, a tempting force-of-nature whom he is uncontrollably drawn to despite knowing he probably shouldn't be. Following the divorce of her third husband, oil tycoon Howard D. Doyle (Billy Bob Thornton), Miles lets his feelings for Marilyn be known. Now all he has to do is ensure that her reciprocal feelings for him are genuine, and not just a part of her latest con.
Unlike the Coen brothers' usual oeuvre, this time they have paired up on the screenplay with fellow team Robert Ramsey and Matthew Stone (2002's "
Big Trouble
"). Four screenwriters involved in one project is rarely a good sign, usually resulting in a troubled creative tug-of-war. Whether this is the case or not, "Intolerable Cruelty" has all of the makings of such a problem. The finished product is severely uneven and the dialogue hyperstylized and unnatural.
The romance between Miles and Marilyn is hindered in the process. Whereas the characters of Marge Gunderson and Jerry Lundegaard in "Fargo" were filled with humanity and given the chance to live and breathe as real people, Miles and Marilyn are strictly one-dimensional screenwriting creations whose every line of dialogue is directly related to the plot. Without any apparent hobbies or interests outside of their money-obsessed schemes, they share no plausible connection outside of basic physical attraction. Why does Miles fall for Marilyn in the first place? And why does Marilyn react by grappling with her crooked conscience? Because without them, there would be no story to tell. As it is, the story at hand isn't exactly one that needed to be told in the first place. As intentionally nasty and meanspirited as Miles and Marilyn are, director Joel Coen betrays even these failed intentions in the final act by attempting to grow them hearts when it is so obvious they have none. These last-minute pleads for audience sympathy are unconvincing at best, and woefully misguided at worst.
George Clooney (2002's "
Solaris
") and Catherine Zeta-Jones (2002's "
Chicago
") are impossibly gorgeously movie stars who have never looked better than they do here. In a film that might have given them likable, or at least interesting, characters to portray, this talented pair could have really sizzled. Mark things down as a missed opportunity, then, as Clooney and Zeta-Jones wade through paper-thin characterizations and stilted dialogue. We never believe for a second that they are falling in love, and so the picture's entire reason for being is admonished. Some of the supporting roles are a little brighter, if no more developed, with Paul Adelstein (2000's "
Bedazzled
") as Miles' overly sentimental assistant Wrigley, Billy Bob Thornton (2001's "
Monster's Ball
"), as one of Marilyn's conned husbands, and Cedric the Entertainer (2002's "
Barbershop
") as tabloid photographer Gus Petch, showing the most promise.
As ill-advised and emotionally static as most of "Intolerable Cruelty" is, fleeting moments of comedic inspiration manage to shine through. Marilyn's wedding to Doyle, with vows written as if they were seafarers, and a truly unfortunate mistake concerning a gun and an asthma inhaler are funny enough scenes to make you briefly forget how hateful the film is and how far Joel and Ethan Coen have fallen in the seven years since "Fargo." Mostly though, you are forced to watch despicable people doing things you simply don't care about for 100 minutes. The cruelty these characters inhabit may, indeed, be intolerable, but so is this movie.