A live-action adaptation of the Bill Cosby-created '70s cartoon called "Fat Albert and the Cosby Kids," "Fat Albert" has arrived in theaters at least fifteen years too late. After all, do young children in 2004 even know who Fat Albert and his animated buddies are? Director Joel Zwick (2002's "My Big Fat Greek Wedding") and screenwriters Bill Cosby and Charles Kipps seem to realize this, and, indeed, when the toons pop out of the TV set during a "Fat Albert" rerun (in live-action form) to help sad teen Doris (Kyla Pratt), none of her classmates recognize who they are. Perhaps this telling fact should have been a signal that, for these helpful misfits from Philly, they are well past their prime.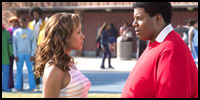 Of course, any motion picture can work—even one that is an artifact of its era—if solid material is there to support it. In this case, there isn't. Instead of being a direct telling of the cartoon, "Fat Albert" is savvy in bringing its title character into the present day through a fantastical occurrence that Doris stops being surprised about two minutes after they arrive in her home via a cartoon-to-real-world portal. What Fat Albert (Kenan Thompson) and friends Rudy (Shedrack Anderson III), Mushmouth (Jermaine Williams), Bill (Keith Robinson), Bucky (Alphonso McAuley), Old Weird Harold (Aaron Frazier), and Dumb Donald (Marques Houston) have broken the laws of physics for, however, hardly seems worth the effort.
Doris, who has been having a difficult time making friends and dealing with neglectful parents ever since the death of her beloved grandfather, cries a single tear on the remote control as she watches a rerun of "Fat Albert and the Cosby Kids"—the catalyst for the junkyard gang's appearance. Because they can only return when their show is on TV Land, they are stuck in their live-action bodies for twenty-four hours. As Fat Albert attempts to solve the problems Doris is in denial that she has, he falls for her kind, lovely foster sister, Lauri (Dania Ramirez), and gets a taste of the limitless possibilities available to him outside of his series. As their time in the real world expands to several days, the gang realizes they are slowly fading; if they do not get back into the TV soon, they will be in danger of disappearing altogether.
"Fat Albert" features a great final scene, powerful and even exquisitely poetic, involving Bill Cosby (in a glorified cameo as himself) and the real-life counterparts that inspired the Cosby Kids characters. It brings unpredicted significance to a family comedy that, until that last minute, has been purely disposable, only marginal entertainment. This very fine ending comes too late, exposing the preceding 90 minutes to be a fraudulent waste that could have been so much more. Doris' problems, while valid, are seemingly solved simply by her winning a climactic track meet, and her parents' neglect is never dealt with. In a movie set over a three-day period, Doris and Lauri are left alone at home for the duration, a note on the fridge on the first day from her mother saying that she will be late never reaching fruition.
In lieu of dealing directly with Doris and the issues she is facing, director Joel Zwick uses the hoariest of cliches—a trying-on-clothes montage, a curiously choreographed impromptu dance sequence at a party, a trip to a nearby carnival—to tell his story. All logic is tossed to the winds, with one clumsy plot hole arriving right after the next. What public high school, for example, runs like a college, with Lauri having an "early class" and Doris able to come home in the afternoon and then return to school a few hours later? And who has a huge birthday blowout on a weeknight, with an entire city block being closed down so that the 16-year-old party guests can hang out on the street while a deejay blares music from his speakers? And why, at said party, does Doris cheerfully agree to dance with school bully Reggie (Omari Grandberry) when, only seconds earlier, he had attempted to publicly humiliate Fat Albert?
Even with these leaps in comprehensibility, "Fat Albert" isn't a film easy to hate. There is a certain innocent, do-gooder charm in the way Fat Albert and his buddies resiliently rise above adversity, and befriend Doris when she needs someone most. The light romance between Fat Albert and Lauri is also sweetly conveyed and unforced, with Dania Ramirez (2004's "She Hate Me"), as Lauri, a delightful screen presence. Kenan Thompson (2004's "
Barbershop 2: Back in Business
") does a respectable job in impersonating and evoking Fat Albert without moving too far out of his comfort range. The pacing is quick, the plot inoffensive, and the music choices sprightly enough that the experience of watching it doesn't become so much a chore as merely time that could be put to better use.
Alas, that is the quandary of "Fat Albert," a barely adequate feature that will divert younger audiences and leave everyone else with the uncomfortable sense that director Joel Zwick has been treading water. The epilogue is poignant and truthful in a way that the rest of the film, with its inept storytelling, stock supporting characters, bumbling scene transitions, and strictly unfunny humor, does not earn or deserve.