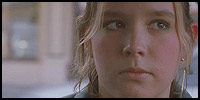 A 2004 Dramatic Competition entry at the Sundance Film Festival, "Evergreen" has received an unorthodox theatrical release that most first-time directors of a tiny independent movie could only dream of. AMC Theaters, seemingly connecting deeply with the material, picked the film up to be distributed exclusively through their chain on 115 screens nationwide. Not only that, but it is being shown digitally via satellite, a still-in-its-infancy concept that does away with the need for projectors and the expensive cost of making film reels. Although regular art-house viewers will be able to think of quite a few superior motion pictures more worthy of such luck, "Evergreen" remains a solid, affectionately told drama, at times wavering the line of excellent, that only disappoints when it doesn't add up to the fully-realized catharsis it is obviously aiming for.
Kate (Cara Seymour) is a down-on-her-luck single mother who moves with teenage daughter Henri (Addie Land) to the small logging town of Everett, Washington. Coming from a class of people that Henri labels "dirt-poor," they take up residence with Kate's grandmother (Lynn Cohen) in a dilapidated shack of a house with more holes in the ceiling than can be counted. As Kate promptly takes a job at a low-paying cosmetics factory, Henri befriends wealthy, studly classmate Chat (Noah Fleiss). The home life Henri finds at Chat's beautiful gated house, with a nurturing mother Susan (Mary Kay Place) and kind father Frank (Bruce Davison), is one that she is quickly seduced by. And even as his actions suggest Chat is looking for not much more than sex in the long run, Henri is blinded by a higher class than she has ever been a part of, alienating Kate in the process. What seems like a perfect life within the walls of Chat's house, however, is anything but, as Henri gradually discovers the hard way.
"Evergreen" is low-key, touching, and often tragically funny, finding common human truths in different people's relationships and financial status. Enid Zentelis, in an encouraging writing-directing debut, demonstrates a keen mastery of portraying the respective virtues and flaws in all of its characters. There are no good or bad figures in sight so much as people who feel true-to-life in all of their glorious imperfections. Henri, for example, is not above stealing money from her mother's helpful new boyfriend, lowly casino dealer, Jim (Gary Farmer), but she does it more out of spite and anger than out of obvious delinquency. Likewise, she loves caring mother Kate, is close to her (she has never known her father), but can't help but wish that she had been born into a family with money and "comfortable" furniture. In an eye-opening debut performance—she was reportedly picked at a casting call out of Seattle—Addie Land exquisitely embodies Henri as a strong but self-conscious young woman more naive about the ways of the world than she would like to believe.
Chat, in a way, is the opposite of Henri, knowing no other life than one of privilege and, in effect, taking it for granted. Chat likes Henri, but he is a regular hormonal 16-year-old, and doesn't put the same stake in his relationship with Henri as she does in him. As Chat, Noah Fleiss (2001's "Storytelling") is very good in a tricky part, avoiding the cliches of a jock just out for sex even as he must remain in the dark about what he and his family mean to Henri.
Mary Kay Place (2004's "
Silver City
") adds another warmly noteworthy turn as Chat's agoraphobic mom, Susan, bringing layers of neediness and regret to a role that, in lesser hands, might have come off feeling underwritten. Rounding out the sterling cast—the performances are what lift "Evergreen" above the ordinary—Cara Seymour (2000's "American Psycho") is tenderly affecting as Kate, whose desperation she keeps hidden for the benefit of her daughter, and Gary Farmer (2002's "
Adaptation
") does wonders with Jim, a wise man of the working-class who gives a helping hand to Kate and Henri, but feels scorned after the money in his wallet turns up missing. In one sad, uncomfortable scene, Kate follows Henri to Chat's house and, out of the love she has for her daughter, must pose as a cosmetics salesperson in front of Chat and Susan.
Director Enid Zentelis, with the aid of cinematographer Matthew Clark, indelibly personifies the drearily luscious Northwestern setting—a place she clearly knows well—as a character of unfounded dreams but possible hope. There is an especially poetic scene in which Henri climbs the daunting log stacks, finally lying down amidst them as if she is being swallowed by her surroundings.
For 80 minutes, "Evergreen" is close to flawless, particularly for a small-scale, multilayered character piece. The abrupt, too-neat ending, however, mars the film's aftereffect, as if director Zentelis ran out of time or money and had to conclude things before their natural finish. In appearance, vital exchanges between characters are missing, and the way in which Henri comes to a certain realization and makes amends for her actions is unconvincing. "Evergreen" is a fine first film, there is no doubt, and its ending is a miscalculation that hinders, but fortunately does not altogether destroy, what has come before. Regardless, it is a moving picture worth seeing.