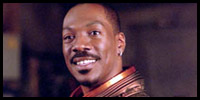 Sometimes the job of a film critic is but an easy setup for extreme punishment. Such is the case with the long-delayed (and for good reason) "The Adventures of Pluto Nash," a big-budget sci-fi comedy (the latter term I use very, very loosely) that couldn't have possibly gone more disastrously wrong if director Ron Underwood (1998's "
Mighty Joe Young
") had been held at gunpoint for the complete duration of filming. "
The Crocodile Hunter: Collision Course
," the other runner-up for worst picture of 2002, at least had a low-budget and not many aspirations outside of sating the appetites of Steve Irwin's fans. The filmmakers and studio heads behind "The Adventures of Pluto Nash," however, have seen fit to throw a reported $80-million out the window with the sort of abandon an infant might have in throwing a McDonald's Happy Meal toy outside the window of a moving car.
Set in a glitzy Vegas-style city on the moon in the year 2080, Pluto Nash (Eddie Murphy) is a smuggler-turned-nightclub-owner who has recently gotten rich off his entrepreneurial venture. When a mafia group plan an attack to take over the club and turn it into a casino, it is up to Pluto, visiting Earth girl and aspiring singer Dina Lake (Rosario Dawson), and low-tech robot Bruno (Randy Quaid) to stop them.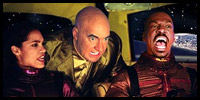 If the premise can be summed up in two sentences, it is a shame director Ron Underwood and purely inept screenwriter Neil Cuthbert (1999's "
Mystery Men
") didn't make a two-minute short film. Still, that would have been two minutes too long. "The Adventures of Pluto Nash" is the kind of overblown, special effects-laden, all-star comedy that comes around once in a blue moon (no pun intended), but makes you wonder just how it got made in the first place. To say the film is unfunny would be to make a vast understatement about just how moronic, ill-conceived, and lame every second of this trifle really is.
There is no energy to any of it, no humor, no interesting characters, and no point. A hodge-podge of scenes that are only marginally coherent and add up to little more than watching a blank projector screen, the movie is a wasteland of dead material, signaling nearly the final nail in the coffin of Eddie Murphy's once-thriving career, and an embarrassing footnote on the resumes of the rest of the talented cast.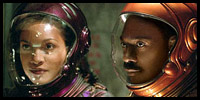 Speaking of which, it is not merely coincidence than Eddie Murphy (2002's "
Showtime
") has made four heinously awful star vehicles in a row. Whatever appeal or humor he once held, it becomes rapidly apparent in "The Adventures of Pluto Nash" that he has lost it. Does Murphy even read the scripts before he signs on to projects, or does he simply have bad taste? What is for certain is the sizable clout Eddie Murphy holds in Hollywood. He could have had his choice of nearly any role in Hollywood if he wanted it bad enough. So what does he choose to make? "The Adventures of Pluto Nash," which was vehemently not screened in advance for critics, and has sat on the shelf for over a year collecting dust. If there really was a merciful God, the film negatives would have been burnt to a crisp in a freak accident. No such luck.
©2002 by Dustin Putman