For those moviegoers not akin to having the Force be with them, "About a Boy" offers a highly entertaining, pleasingly unsentimental alternative to the box-office onslaught of "
Star Wars: Episode II - Attack of the Clones
." More than proving that they have undeniable range outside of their raunchy "
American Pie
" escapades, directors Chris Weitz and Paul Weitz have concocted a warmly comical, heartfelt gem that sidesteps an easy maudlin tone for something more grounded in reality.
Hugh Grant (2001's "
Bridget Jones's Diary
"), in what is certainly one of his most adept and likable performances, stars as Will Freeman, a self-involved slacker who has lived his entire adult life off of the royalties from a one-hit-wonder song his dad wrote years ago called "Santa's Super Sleigh." With no real life goals except to sleep with one attractive woman after the next, his fate changes when he decides to attend a single parent's support group in an attempt to meet an emotionally insecure woman. Through this, he ends up meeting, and later befriending, 12-year-old Marcus (Nicholas Hoult), the bullied son of his latest female prey's friend. Marcus instantly seeks solace in the home of Will after his depressed mother, Fiona (Toni Collette), makes a suicide attempt. From this surprising odd-couple relationship, Will is forced to face up to what a shallow, wasteful life he has led up to this point.
Based on the novel by Nick Hornby and lovingly adapted by Chris Weitz, Paul Weitz, and Peter Hedges (1993's "What's Eating Gilbert Grape"), "About a Boy" is content in trading in predictable plotting for a cast of characters who have all been written with a great deal of affection and sympathy. In the summer movie seasons when special effects rule the multiplexes, it comes as something of a comfort to find a small, genuinely funny and poignant motion picture about people simply trying to make it through their everyday existence in one piece.
Alternately narrated by Will and Marcus, the bond that forms between the two is a pleasure to watch take shape. At first, Will looks at Marcus as little more than an annoyance who keeps showing up on his doorstep. After all, he has no desire to have children of his own—only date women who do. What he learns from the wise Marcus, however, allows him to open his eyes to the goings-on around him, and to his own life. A lesser movie would treat this adult-child relationship as cutesy or maudlin, but directors Chris and Paul Weitz are more intrigued in portraying the reality of the situation. The film only benefits from this.
In Will, Hugh Grant has been given a chance for the first time since 1999's "
Notting Hill
" to play a character who isn't one-dimensionally slimy, as he was in 2000's "
Small Time Crooks
" and 2001's "
Bridget Jones's Diary
." At the onset, Will is undoubtedly a womanizer who resorts to lying just to win women over. It is a testament to the likability of Grant that he instantly wins you over and, by the end, has you deeply involved and rooting for his happiness. In his superb film debut, Nicholas Hoult makes for Will's splendid counterpart, Marcus.
Other actors in the film also get their individual moments to shine. Toni Collette (2002's "
Changing Lanes
") gives a heartbreaking performance as Marcus' unconventional, clinically distraught mother, Fiona. Collette is an actor's actor—a virtuoso performer who makes her every moment onscreen ring with a resounding truthfulness. Rachel Weisz (2001's "
The Mummy Returns
"), in a very good, believable turn, shows up as Rachel, a single mother whom Will meets and evolves actual feelings for.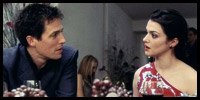 Through sharp, often acidic dialogue that only sounds better when transported to the British accented mouths of the characters, "About a Boy" may be gently touching, but it is also enormously funny. All the way through, the picture has a smooth, relaxing air about it that is thoroughly enjoyable, if not overwhelmingly earthshaking. The effective climax, in which Marcus gains the courage to perform the Roberta Flack song, "Killing Me Softly," at a school talent show, could have turned sappy with one false move, but never does. That is the biggest pleasure of "About a Boy." Just when you think you know where the film is going, and when it is going to lose its way into sentimentality, it surprises you. Just like real life.
©2002 by Dustin Putman