Somewhere between winning an Academy Award for his screenplay for 2000's "
Traffic
" and writing and directing "Abandon," first-time filmmaker Stephen Gaghan must have suffered a brain aneurysm. How else to explain such a drastic drop in quality or even cohesive storytelling? "Abandon" is a tepid, bland psychological thriller without thrills or even much of a plot. The film aimlessly wanders from one scene to the next, lacking any sense of energy or driving force for why the viewer should care at all about what is happening. Not that much is happening to begin with.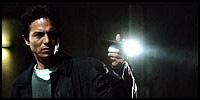 Katie Burke (Katie Holmes) is approaching the end of her college career at an elite university, but with quick-approaching finals, a major thesis deadline, and an offer to work at a New York law firm, anxiety has started getting the best of her. Things only go downhill when she is approached by police detective Wade Handler (Benjamin Bratt), who has restarted an investigation into the sudden disappearance of her boyfriend, Embry (Charlie Hunnam), two years earlier. Suddenly, Katie is haunted by visions of Embry around campus. Has he really returned, playing a sick mind game on her, or are her past memories simply getting the best of her?
The premise of "Abandon" holds promise, as do the attractive production values, but its delivery is a complete mess. The biggest offender in "Abandon" is its sheer boredom, and the second is a plot that doesn't have any idea how to be carried out in an interesting fashion. For the majority of the film's running time, it is understandable if viewers begin to question where the movie is going or what it is even about. Deliberate pacing can be effective, but there needs to be something or someone to grab onto and identify with. The characters that litter "Abandon" are cookie-cutter creations from the generic assembly line of Screenwriting 101. If any of them possess life, don't get too worked up; it's only a cursory mistake.
Katie Holmes (2000's "
Wonder Boys
") may be mostly known as the star of TV's "Dawson's Creek," but she has continually impressed with her feature film work, both from a performance standpoint and the choices she has made in what she tackles. When someone as natural, beautiful, and fresh as Holmes is the lead in a movie and even she is a dullard, you know you're in trouble. As the ambitious but overwhelmed Katie, Holmes only gets a handful of chances to do more than react to the obligatory things going on around her.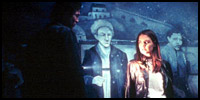 As investigator Wade Handler, Benjamin Bratt (2000's "
Miss Congeniality
") continues to get high-profile roles for nothing much more than his darkly handsome looks. The romance that sparks between Katie and Wade is preposterous and inappropriate. Their love scene, particularly, has to be one of the most sterile moments in any film this year. The rest of the cast—filled with several up-and-coming young talents like Zooey Deschanel (2002's "
The Good Girl
"), Gabrielle Union (2000's "
Bring It On
"), and Melanie Lynskey (2002's "
Sweet Home Alabama
")—is wasted.
The surprise twist at the end of "Abandon" admittedly fooled me, but even it was anticlimactic, awkwardly staged, and ludicrous. For a motion picture that starts off introducing a bright and informed young woman and concludes by cheapening her every previous moment onscreen, the aftereffect is unforgivable. Not nearly as unforgivable, however, as unleashing such a rudimentary dud as "Abandon" into theaters nationwide. Audiences who unsuspectingly stumble in won't know what him them 99 minutes later.
©2002 by Dustin Putman